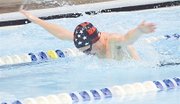 YAKIMA - The Greyhounds continue to improve their swimming skills as they competed last night at Lions Pool in Yakima against West Valley.
"The boys swam great," said Grandview Coach Patrick Elerding.
Grandview's Mitchel Wagner earned a first-place finish in the 500-yard freestyle with a clocking of 6:18.41. West Valley's Sam Soliday was second, touching the wall in 6:23.02.
Wagner also swam to second-place honors in the 200-yard freestyle, clocking 2:18.06 behind the Rams' Kian Hausken (1:53.90).
Greyhound Jared Churchill also put in strong performances on the night with two second-place finishes. He clocked 25.91 in the 50-yard freestyle, less than a second behind first-place finisher Austin Dean of West Valley (25.13). Churchill also took second in the 100-yard butterfly, touching the wall in 1:05.15. West Valley's Dawson Finley clocked 1:03.17 in the event.
The heavily outnumbered Grandview team fell to West Valley 140-37, but is showing improvement, according to the Greyhound coach.
"This was the best performance the boys have had so far," said Elerding.
The Greyhounds are next scheduled to meet Walla Walla at Whitman College tomorrow, Dec. 15.