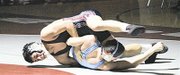 GRANDVIEW - The Grandview wrestling team last night secured its third victory in league action.
It was West Valley that suffered a 49-30 defeat.
Seven of the Greyhounds' nine wins were by way of pin, and three of five of the Rams' victories were secured by pin.
For Grandview, it was Marizza Birrueta who notched the first pin for Grandview. She dropped back down to the 106-lb. weight class and battled Zachary Trujillo of West Valley before dropping him on his back in 3:31.
Greyhound Coach Jeff Sevigny noted it was a good birthday present for the veteran grappler.
Freshman Viannei Perez of the 'Hounds secured her first victory of the season last night. She won a major decision, 11-1, over Ram Johnathan Cordle in the 113-lb. weight class.
Grandview then suffered two losses. Steven Razo (120 lbs.) was pinned by Gage Durbyson of the Rams, and another pin for West Valley was secured in 1:53 by Lane Bruland (126 lbs.) over Grandview's Jo Jo Cisneros-Valdez.
The next five bouts went the Greyhounds' way.
David Castaneda pinned Tyler Thornton in 2:28 in the 132-lb. weight class; Grandview's Stevie Rodriguez (138 lbs.) pinned West Valley's Oliver St. Claire in 2:46; 145-pounder Joesiah Saunders had Conner Acker on his back in 1:42; West Valley's Ye Yun Lee succumbed to the pin delivered by Grandview's Jose Castilleja (152 lbs.) in 1:42; and Greyhound Eduardo "Sid" Alcantar (160 lbs.) defeated John Martin by way of pin in 1:47.
The 170-lb. bout was given to the Rams by way of forfeit, but the Greyhounds continued the streak of wins with a 13-7 decision in the 182-lb. bout between A.J. Valenzuela and West Valley's Tristan Hauck.
The final Grandview grappler to secure a win was 195-pounder Adrian Magana, who pinned Kyle Cappa in 1:47.
Grandview heavyweight Kory Kollmar was the last to take the mat against Robert Koch, who subdued the Greyhound in 47 seconds.
The 285-lb. match also went to West Valley by way of forfeit.
"I was really proud of our guys (and girls) tonight," said Sevigny.
He said two varsity grapplers were no-shows and Diego Castaneda was unable to wrestle due to an injury suffered during practice. That had the team "a little worried." However, the Greyhounds pulled through and won the dual match.
"Getting seven pins really helped us make up for some of the lost points," said Sevigny.
Grandview will next Tuesday, Dec. 18, take to the mat in Ephrata against the Tigers.