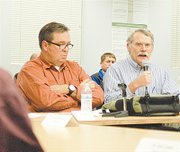 The Lower Yakima Valley Groundwater Management Area advisory committee accomplished one goal last night and nearly finished another.
In the group's last meeting of the year members hammered together a plan for the creation of a program to reduce nitrate contamination concentrations in groundwater below state drinking water standards. They also finished and approved an education and public outreach plan.
In the three-hour meeting the committee split into work groups to finalize planning items and timelines for various aspects of the groundwater program, including livestock and dairies, irrigated agriculture, domestic pollutants and data gathering. Discussion was productive and each group finished its assigned section.
But rather than have the county put the disparate parts together and call it the plan, the group asked for a one-month extension so it could conduct a final review of the total product in January before submitting it to the Department of Ecology.
Charlie McKinney of the Department of Ecology told the group that the delay is acceptable. He said the department wants to see progress being made.
"Is the group seriously addressing the issues?" he asked the committee. "It doesn't mean the plan can't be changed in the future. You need to show that the group is taking it seriously and moving forward."
Penny Mabie, facilitator for the committee, was on her toes keeping everyone on track. She reminded the group that program implementation is still at least a year away and the plan the committee was working on is simply a guideline on how to develop the program.
Chairman Rand Elliott agreed with her.
"This isn't a major decision point," said Elliott. "This is a plan to create the program. Don't get too bogged down in details."
Early in the meeting some questions about budgeting arose. Jean Mendoza of Friends of Toppenish Creek asked for a statement that the budget would be debated later in the process.
Mabie said the group is not about debating.
"We're working together," she said. "Scrub that word from your language bank."
Elliott told the group the budgeting would be part of the job of the work groups in the future.
"Part of creating the program is putting a cost to it," he said.