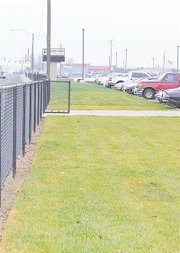 There are a few minor nips and tucks here and there, but for the most part the recent modernization project at Sunnyside High School is complete.
Sunnyside Schools Superintendent Dr. Rick Cole said there are three levels to a project's completion. Each of those levels must receive school board approval.
"The first is conditional occupancy," he said, explaining two levels of completion have been approved.
Conditional occupancy, said Cole, is determined when a building is safe and move-in ready.
"The second (level of completion) is when a certificate of occupancy is issued by the local jurisdiction," he said, stating the building must meet local codes and regulations.
Cole said the last level of completion is "substantial completion."
He said that is usually obtained when a "punch list" is presented by the contractor, detailing the remaining items to be finished in a project.
The detail work, such as paint touch-ups, a few electrical details or small disputed items must be mitigated.
Cole said the school district is waiting for the punch list so the school board can approve the substantial completion of the modernization project.
"When that's done, it will start a 45-day window for all the little things to be done," said Cole, adding the school district on Sept. 21, 2012 issued a letter to the contractor.
The letter, he said, was in regard to the missing punch list "...stating $1,000 per day in liquidated damages would be assessed the longer it takes for completion."
Cole said it is in the best interest of the contractor to complete and present the punch card as soon as possible, but it is typical to achieve substantial completion two to three months after occupation.
"Everyone is working to get the little things done so the final timeline can be completed," he said, noting the architect and contractor have been conducting weekly meetings to reach an agreement on the punch list.
"The operation of the school hasn't been affected...the architect and contractor have been exemplary in making sure the building was safe with students present," Cole said.
He also noted that the modernization project at SHS came in under budget and everyone is working hard to ensure the final touches are made.