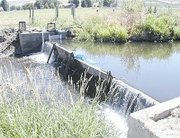 More than $1 million is headed Yakima County's way as part of a statewide salmon recovery grant program.
The awards were announced this week and, all told, include more than $19 million in grants to aid salmon recovery in this state.
The program is funded through the Washington Salmon Recovery Funding Board, which receives its monies through federal salmon recovery programs and the sale of state bonds.
More than half of the $1.09 million grant funds destined for Yakima County have been targeted for the North Yakima Conservation District. The district is receiving $574,600 to remove barriers to fish passage on Cowiche Creek, five miles northwest of Yakima.
The idea is to install a pressurized irrigation pipeline to benefit Coho and Chinook salmon, as both species are listed as threatened with extinction according to federal guidelines.
"Successful completion of the projects on Cowiche Creek in Yakima County will be a major milestone in salmon recovery in the Yakima basin," said Yakima County Commissioner Mike Leita. He noted the work on Cowiche Creek will provide full passage to over 25 miles of habitat that has been inaccessible to salmon for the last 120 years.
Other sizeable awards in Yakima County, both just topping $200,000, were designated for Yakima County Public Services in reconnecting the Naches River with its side channels and for the city of Yakima in restoring the Yakima floodplain.
Grant funds for the Naches River project will help in purchasing 32 acres to reconfigure levees so the river can re-occupy old side channels previously restricted by sediment build-up.
As for the floodplain project, grant funds will be used to restore fish habitat in the Gap to Gap reach on property owned by the city of Yakima, the Yakima Greenway, Yakama Nation and Washington State Department of Transportation. Work calls for a portion of the Greenway to be moved outside of the 100-year floodplain.
Other projects in Yakima County garnering salmon recovery funds included plans to develop side channel habitat on the Yakima River and the Yakima-Tieton Irrigation District's proposal to assess the possibility of delivering Tieton River water to Cowiche Creek water users.
A catalyst for the recovery efforts in Yakima County and around the state is the endangered status of so many fish species in Washington.
"These grants are very important in Washington," said Don "Bud" Hover, chair of the state funding board. "They give local groups the money they need to fix the rivers, estuaries and bays in their communities and they put local people to work."
Grant recipients will use the money to reconnect rivers and streams, remove barriers that prevent salmon from migrating and replant riverbanks to shade and cool the water, creating places for salmon to reproduce, feed, rest and hide from predators.
Recent Oregon studies showed that every $1 million spent on watershed restoration results in 15 to 33 new or sustained jobs, $2.2 million to $2.5 million in total economic activity, and that 80 percent of grant money is spent in the county where the project is located.
"This process of local groups identifying what needs to be fixed in their communities to improve salmon populations and developing recovery plans that are approved by the federal government has served as a powerful example of successful salmon recovery implementation on the West Coast," Hover said. "This process ensures that we fund the projects that the local citizens feel are most important and that scientists agree will do the most to recover salmon."