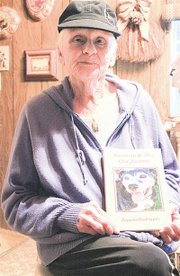 ZILLAH - Earlier this year Pamela Rodriguez had to lay her best friend to rest.
Arguably, it was the hardest thing she's ever had to go through. Even though she's had three bouts with cancer, Soulman was always there for her, he was her caretaker and her pet.
Soulman was a pit bull, but he wasn't just any old dog, the Rodriguez family believes he was a true guardian angel.
One day Soulman began pushing at Rodriguez's stomach, then jumping and spinning around.
"I said, 'Careful Soulman, you're going to push me down'," she said.
But shortly after Soulman sniffed out something might be wrong, Rodriguez was diagnosed with colon cancer that had spread to her stomach.
Before the doctors discovered it, however, Soulman already knew.
Then, he did it again, Rodriguez says.
After a few years of remission from the devastating cancer and its treatments, Soulman began again pushing his nose into her body, but this time it was her rib cage.
"This time I knew not to delay and went right to the doctor," she said.
It was lung cancer.
The most fascinating, miraculous event for Rodriguez is when Soulman came into her life.
The trusty dog followed her husband, Willy, home over more than a 10-mile trek, across a river and a highway to their home near Zillah. Mr. Rodriguez first suggested maybe taking the stray dog to the pound.
"But I just couldn't do it, there was something about him," she said.
That was 17 years ago.
Soulman and Rodriguez have been through a lot together over the years, some good times and some heartbreaking moments.
But after all the good and hard times, her worst fear was about to become true. Soulman succumbed to illness and passed away at their country home this past February.
Even though his body is gone, his spirit is still alive and well in the Rodriguez home. The canine will come to life for others, as well, at a book signing next week.
Nearly two years ago, Rodriguez set out to get a book published of the amazing adventures she and her trusty companion have been through, and earlier this month the book was finished. She's ready to make her big debut as an author. This 68-year-old woman doesn't claim to be a professional writer, "but I wrote this from my heart," she said with tears welling up in her eyes.
"This is my way of leaving his legacy," she added.
The book signing will take place where she's recently spent much of her time, at North Star Lodge cancer treatment center in Yakima.
Rodriguez will be there with copies of her book, "Soulman & Me, Our Journey," next Tuesday, Dec. 18, from 11 a.m. to 2 p.m.
For more information, contact Rodriguez at (509) 865-4275.