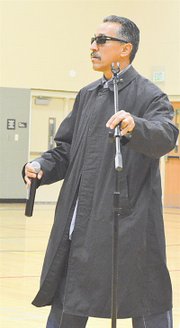 He was last Friday introduced as "Mr. Chocolate" (pronounced Choco-lotay), and the message he had for students at Sunnyside's Sierra Vista Middle School was one that he hopes will impact the lives of the youngsters.
It turns out Mr. Chocolate is Richard Santana, a former gang member who succeeded in earning a degree from Harvard University.
Santana's life was not easy. His father abandoned his mother when she was pregnant. She died just a few months after Santana was born.
That left him to the care of relatives, who were involved in a California gang.
"I was asked to come here to tell you about my life...it's not easy because it means remembering the pain, the drugs, the violence and burying my homeboys," said Santana.
He said it is important, however, to share his message because he knows how the pressures of life as a youngster can impact an individual.
"Someone like you might be thinking about drugs for the first time...you might be thinking about messing up in school...
"It becomes a sad day when you think you must disrespect someone else to gain respect."
Santana said he was told the best thing for him was to be killed or to get locked up.
His uncle, a convicted felon, introduced him to alcohol when he was in the seventh grade. He told the youngsters about the fear he felt at the time...about how he didn't want to disappoint his uncle because the consequences of not drinking the vodka thrust at him would result in added pain.
Santana said that was one of the many situations he found himself in while growing up that impacted the choices he made.
"I didn't have the privilege of having someone telling me I could be somebody," he told the middle school students.
Santana said his goal was to help the students learn from his mistakes because, he said, "A foolish person is one who learns from his own mistakes...a wise person learns from the mistakes of others."
He said it is much like when a mother tells her child not to touch a hot stove. The child, wanting to do his or her own thing, gets burned by touching the stove "...stupid.
"You had to be a fool...I might be your little candido, your little brother who learns from your mistake."
Santana said he was bullied growing up and wanted what others had. He escaped the pressures of life by attending school, but the pressures continued to mount.
"Whoever invented the idea of hating each other because of a color and a name like sureno or norteno was smart because they found the best was to keep our people down," Santana said, speaking of Hispanic gangs.
He said he joined a gang and "got caught up in the sin and madness."
Santana listened to his homeboys, who told him he had to have a lot of girlfriends and smoke marijuana.
"My life was controlled by drugs," said Santana, stating he began hustling and doing whatever it took to get his next hit.
"I don't care where you come from, you're not bad enough for drugs. If drugs get a hold of you, it will destroy your life," said Santana.
Adding humor, he talked to the youngsters about becoming teenagers and the pressure to impress members of the opposite sex.
Santana said adolescents begin to realize they are developing adult bodies, "...but you are still a child."
He said they begin to worry about their appearances in hopes of attracting members of the opposite sex.
The youngsters might begin taking notice of one another, but it is important not to give in to the suave young man saying, "What's happening momma?"
Santana said he made the mistake of disrespecting girls when he was young and urged the middle school students not to do the same.
"Having sex doesn't make you a man...what makes you a man is showing respect for the young ladies," he said.
On the flip side, Santana told the young ladies not to walk around like "hoochie mamas" because it is a sign of disrespect for themselves.
"It's okay to be virgins," he told the youngsters.
Santana said growing up he saw a lot of violence and attended the funerals of several homeboys. He said he knew of fights that ended in murder because someone started an untrue rumor that snowballed.
"Another homeboy is buried in prison...he killed another because of the color of his skin...the sad thing is he was the same race," said Santana.
He said it was a teacher who helped him turn his life around. She stuck by him and taught him that he had choices and that he could be somebody in life.
Although it took a lot of support from that teacher and counselors, as well as a few other adults in Santana's life, he was able to graduate high school and go to college "...even when I wasn't supposed to."
Santana gained his identity and self-respect and reached beyond the limits that had been imposed upon him. He earned a Master's degree from Harvard University.
He said he wasn't supposed to be there because of his early life, but he made it.
"Someone reached out to me...if I can do it, can you imagine the opportunities you have," Santana said, addressing the students.
He said he now has a career talking to students and staff in schools, teaching them about his life so that they can learn from his experiences.
Santana has a child psychology degree with a background in education.
He is also in the process of writing a book about his life, the title of which he is considering. "I've been thinking Homeboy to Harvard."