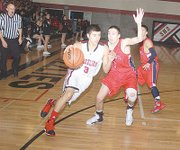 Depth was a big key that helped the Sunnyside boys basketball team win one of two CBBN games this past Friday and Saturday.
At home on Friday, Sunnyside stormed out to an early double-digit lead over Ike and held on for a 68-59 victory.
The Grizzlies led 37-23 at the half and had to battle through foul trouble to preserve the win.
Sunnyside big man Greg Spini, for example, was whistled for a pair of fouls just four minutes into the contest. He then picked up a quick third foul when he re-entered the contest in the second quarter.
Spini was one of four Grizzlies to be called for four fouls. Sunnyside's Joel Ortega fouled out of the game after being on the court less than nine minutes.
Despite that, the Grizzlies persevered with three players scoring in double figures and five collecting five rebounds or more.
"Several times Ike made some charges at us in the second half, and we withstood those charges," said Coach Ron Rowe. "We weathered the storm."
Rowe praised his team's defensive effort in executing a full-court press. "We were able to keep them off balance at times," he said of the Cadets.
Brandon Daley led a balanced Grizzly attack with 17 points and seven rebounds to go with a pair of steals. Trey Serl added 15 and Eduardo Salmeron 10 points, respectively, for Sunnyside.
Salmeron, Spini, Sergio Lugo and Marcus Sanchez all climbed the ladder for five rebounds.
A different scenario played out for Sunnyside at Moses Lake on Saturday night, as the host Chiefs used a 19-3 second quarter run to defeat the Grizzlies 63-42.
Sunnyside actually led in the first quarter, 14-13, before Moses Lake's surge flipped things around and put the Chiefs up 32-17 at the half.
Any thoughts Sunnyside had of getting back into the game were thwarted by Moses Lake's 19-7 run in the third quarter to make the Chiefs' advantage 51-24 heading into the final eight minutes of play.
"They've got some pretty good size and we didn't do a very good job of keeping them off the boards," Rowe said. "They got quite a few second and third shots."
The biggest thorn in Sunnyside's side was Moses Lake's Dennis Ulyanchuck, who scored 22 points and hauled down 20 rebounds. By himself, the Moses Lake big man outrebounded Sunnyside, which as a team could only gather 17 caroms.
Twelve of Ulyanchuck's rebounds were collected from the offensive glass.
"We're going to have to be working on that to get more consistent," Rowe said.
Cody Fernandez led Sunnyside with 18 points, while Serl added eight points and swiped a game-high three steals.
Lugo led the Grizzlies in the paint by hauling down seven boards to go with six points.
Sunnyside (2-2, 3-4) hosts Kamiakin tomorrow night, Tuesday.