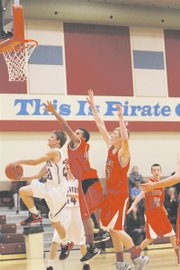 BICKLETON - The Pirates, getting a double-double from Bickleton High senior Justin Roberts last Saturday, cruised past the visiting White Salmon JV Bruins squad, 60-40.
The non-league victory boosted the Bickleton varsity boys basketball team's record to 4-2 on the season.
The 5-11 Roberts dropped in 13 points, more than half of those coming from the foul line, where he sunk 7-of-10 free throws. The BHS senior also scraped a team best 10 rebounds from the boards, five of them from the offensive glass. Roberts, too, dished a team-high four assists.
Bickleton's leading scorer, however, was 6-4 senior Taylor Brown. He collected 16 points on 8-of-14 field goal shooting.
Rebounding-wise, White Salmon was more adept at coming up with the loose caroms. The Bruins tallied 52 rebounds in all, compared to the 40 that Bickleton collected.
The Pirates made up for that by creating more turnovers than White Salmon did. Bickleton only coughed up the ball 16 times, while the Bruins turned it over 25 times.
Besides the solid numbers posted by the two seniors, Roberts and Brown, Bickleton received a 10-point performance from freshman Kane Lowe, who went 3-for-5 from the field and 4-for-7 from the charity stripe. The duo of Peter Clinton and Nate Powers combined for 13 points in the winning cause. Powers, a freshman, also led the Pirates on the defensive end of the court, making off with a team-high four steals.
Bickleton will try and square its Greater Columbia 1B League mark at 1-1 tonight (Tuesday) when the Pirates travel to Toppenish to take on Yakama Tribal.