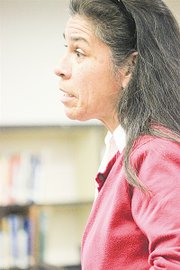 \GRANDVIEW - By this time next year, Grandview Middle School students could have a new uniform dress code policy in place.
A discussion between district staff, parents and students began this past summer, and a work group was formed to help formulate a new dress code policy.
Over a period of about six months, nearly 20 members of the group met each Monday afternoon, including parents of each grade represented at the middle school, community members and district staff members.
The group was led by a facilitator, Cathy Fromme, who helped the group decide how to come to agreements and how to make decisions. The group also formed its own process of how to agree to disagree, when the occasion arose.
Fromme said after the many weekly meetings, the group came to a full consensus last week.
"There were only nine present, however, but there was a full consensus," she added.
A draft of the Grandview Middle School dress code policy was submitted to school board directors this past Monday night, and included the requirement that students wear solid maroon, grey or black, long or short-sleeved collared shirts. In addition, the only artwork allowed on the shirts would be the Grandview Middle School logo, all others would be prohibited. On Fridays, students would be allowed to wear t-shirts of the same school colors, so long as they are solid in color and without any logos or cartoons.
The policy also stipulates all pants should be solid in color, too, and students would be allowed blue or black jeans and black slacks.
Additional items on the dress code draft can be found on the school's website: www.gsd200.org.
School board director Zulma Ochoa said she didn't feel right approving the policy with regards to the outer wear portion of the policy. The policy says students cannot wear gloves, head coverings and coats inside school buildings.
"At some point we will have a student who has a religious reason to wear a scarf inside," she said.
Director Alfonso Contreras motioned to table the item until the two board members who missed last night's meeting are present so they can weigh in on the discussion.
Superintendent Kevin Chase told Fromme the board could forward their additional suggestions to him, and he would convey the message to her.
The Grandview School Board's next meeting is slated for Monday, Jan. 14, at 6:30 p.m. in the high school library.