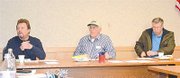 The Port of Sunnyside, having heard the prospective purchaser consent decree has been entered and the phase I environmental assessment has been delivered to the Department of Ecology with no changes, approved the acquisition of the former Carnation property yesterday.
At a special lunchtime meeting held by the commissioners, Attorney Steve Winfree said no additional contaminants have been found on the property and the Department of Ecology has said it will support 90 percent of the clean-up costs.
Maul Foster & Alongi has been the engineering firm contracted throughout the process of assessing the site and its potential for economic development.
The Department of Ecology has agreed to the terms of the prospective purchaser consent decree, which protects the Port of Sunnyside from any future liability issues.
The decree details the mutual objective of the Department of Ecology and the Port of Sunnyside, stating the two parties wish to resolve the potential liability of the port for environmental contamination.
Groundwater clean-up will be completed with chemical oxidation, monitoring and continued analysis. The soil clean-up for lead will involve some excavation and backfill.
The acquisition of the property paves the way for the Port of Sunnyside to preserve historic features of the site, as well as secure funding for demolition and redevelopment of the property.
The commissioners authorized Executive Director in Training Jay Hester to sign the acquisition agreement.
The property's current owner, Zion Bank, will be handing the property over to the port at no cost.