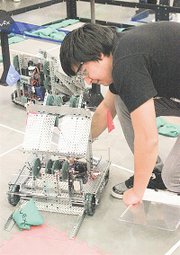 \With 22 teams representing nearly 10 schools throughout Central Washington, it was an all-in effort for the competitors at last Saturday's Washington Technology Student Association's regional competition held at Sunnyside High School.
The day centered on several competitions with the Vex robotics portion being the main course.
The teams spent several weeks prior to Saturday constructing a robot, according to specific standards and specs, to compete against each other in a battle of the bots. The idea was for the robots to be able to pick up bean bags quicker than the other bots, and place them in the proper compartments.
Taking first place honors in that competition were teams from East Valley High School and Toppenish High School. Also honored during the robotics competition was a Goldendale High School team, which was given the excellence award for its overall design and operation of the robot.
Sharing second place honors in the tourney was a Goldendale High School team and another Toppenish High School team.
The judges recognized a Zillah Middle School team for its efforts during the tournament, too.
Toppenish High School was also given the sportsmanship award for its attitude during the competitions.
Another portion of the day included a structural engineering competition. Students were given specific materials and asked to make a box beam girder out of wood and super glue. The team that took first place honors was from Goldendale High School, which built a girder that was able to withstand 111 lbs. of pressure. Second place honors went to a Sunnyside team, whose creation held 88 lbs. Third place honors was also awarded to a Sunnyside team, and theirs held 69 lbs.
Sunnyside High School's Ashley Montes was also recognized for her first-place effort in a flight endurance competition by constructing a rubber-band powered airplane. Montes was able to keep the plane airborne for 13 seconds.