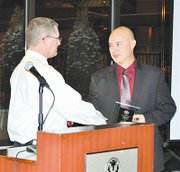 The Sunnyside Police Department 2012 employees of the year awards were issued during the annual department Christmas party on Saturday, Dec.15, at the Red Lion in Yakima.
The event is annually hosted and sponsored by the Sunnyside Police Association and was celebrated with current and retired department employees last weekend.
On behalf of the Sunnyside Police Association, Deputy Chief Phil Schenck presented plaques and service pins for the following that were nominated and voted as 2012's employees of the year. Among the recipients were Sergeant Jeff Cunningham, who was named supervisor of the year; Officer Scott Orate, who was named officer of the year; Bill Harris, who was named reserve officer of the year; Correction Officer of the year Jerry Johnston; Elva Chumley, who was named dispatcher of the year; and Crime Analyst Courtney Percival, who was named support services employee of the year.
On behalf of the Sunnyside Police Reserve Association, Reserve Sergeant Larry Slavens presented the Eli O'Brien Award to Officer Jim Ortiz, who was not in attendance. The Eli O'Brien Award is selected by the reserve officers and awarded to a paid staff member who is a mentor and supporter of the reserve officers.
The Steve Evans Extra Mile Award was awarded to Reserve Sergeant Larry Slavens. The Steve Evans Extra Mile Award was named after former Sergeant Steve Evans who was known to be very supportive of the Sunnyside Police Reserve Officer program. This title is awarded to an active department reserve officer.
On behalf of the Washington State Traffic Safety Commission, Program Manager Edica Esqueda presented this year's "top DUI performance award" to Officer Justin Paganelli for his outstanding DUI enforcement efforts within the department.
After the award presentations, Schenck acknowledged all department employees for their total years of service to the law enforcement profession. He also recognized and issued service pins for dedicated employees who have served on the department for five consecutive years or more.