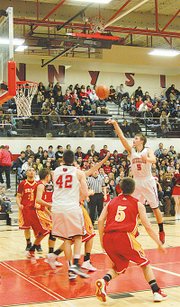 Overcoming a slow start, the Sunnyside boys basketball team used a strong fourth quarter to key a 60-44 non-league win over Kamiakin last night.
The visiting Braves grabbed a 14-9 first quarter lead Tuesday night, only for Sunnyside to pull ahead at the half 29-28.
The contest was still tight after three quarters, with the Grizzlies up just 37-33 heading into the final eight minutes.
That set the stage for an explosive fourth quarter, in which Sunnyside went on a 23-11 run to ice the win.
"Defensively we were able to keep them off balance and not allow them to shoot threes," Sunnyside Coach Ron Rowe said of the pivotal fourth quarter and his team's overall ability to hold the Braves to just 16 second half points. "We were able to force them to do a few things they didn't want to do and we had good help defense."
While Sunnyside enjoyed success with its man-to-man/pressing defensive scheme - forcing the Braves into 19 turnovers - the Grizzly offense had one of its best shooting nights of the season. Sunnyside canned 41 percent of its shot attempts for the night.
"Overall we did a good job of moving the ball and getting the ball to the open people," Rowe said. "We showed patience on offense. It was overall just a good team effort."
The balanced Sunnyside attack had four players in double figures, led by Cody Fernandez and Greg Spini with 14 points each.
Fernandez also collected three rebounds and two steals. Spini was strong in the paint with two blocked shots and four rebounds, three swiped from the offensive glass.
Trey Serl added 12 points, two assists and four rebounds for Sunnyside, while teammate Eduardo Salmeron tallied 11 points and two blocked shots. Salmeron shared team-high rebounding honors with Brandon Daley, who also scored nine points.
The victory evened Sunnyside's season record at 4-4, but Rowe says his team is still a work in progress.
That was highlighted by the fact that Kamiakin's Javan Williams climbed the ladder for a game-high 15 caroms to lead the Braves to a 31-25 rebounding advantage last night.
Kylle Williams also found openings in the Grizzly defense to score 14 points for Kamiakin.
"We're going to continue to work on our defensive sets and rebounding," said Rowe. "We're a little better, but still not as consistent as we need to be."
Sunnyside has time to fine-tune its game, as it returns to action on Saturday, Dec. 29, at Hanford.