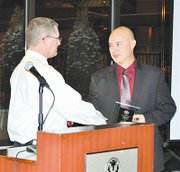 A Sunnyside non-profit organization, Unlock You Dreams, and its director Tony Hidalgo is calling for all hands on deck this holiday season.
Hidalgo says with the days getting colder, the shelters filling up and food bank shelves looking slim, now is a good time to give back.
Unlock Your Dreams is a local non-profit organization dedicated to helping Sunnyside residents engage in arts, culture and sports activities. But right now, they seek to help feed and clothe those in Sunnyside who may need it most.
The organization has teamed up with La Vaquera, a Lower Valley Spanish-speaking radio station, to help raise as much winter apparel and non-perishable food items as they can.
Hidalgo says the group will be stationed on location at El Toro Loco, a Sunnyside meat market, located at 1103 Yakima Valley Highway, from 7 a.m. to 10 p.m. today, tomorrow and Friday. The team hopes to collect enough gloves, scarves, undergarments and food to help clothe those in local shelters and feed those who visit Sunnyside and Mabton food banks.
"I really encourage the public to help out, even if it's just one can of food," Hidalgo said. "It's something that will help."
Hildago says the need in the Lower Valley is huge.
"More than what you might think," he said.
And coming out to help just might give area families a brighter and merrier Christmas this year.