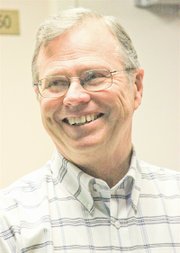 In a faraway country, mountainous and bordered by Kazakhstan, Uzbekistan, Tajikistan and China is the country of Kyrgyzstan. The mountainous land offers an ibex hunting experience that is, for some, unforgettable.
The story of Gary Christensen's trip made members of Sunnyside's Daybreak Rotary Club chuckle and shrill this past Wednesday morning.
In a rapid slideshow, Christensen told about his journey from the town of Naryn into the "death zone" of the mountains. The death zone reaches as high as 10,000 feet.
Despite having issues with traveling and constantly getting stuck in the snow in 40 degrees below zero weather, Christensen speaks of his trip as it were just yesterday. Though it was freezing cold in Kyrgyzstan last February, he says it was quite the adventure.
Despite the troubles, the day of hunting was incredible, Christensen said. He talked about the friendliness of the people, and the breathtaking landscape.
"They are such hard-working, really happy people," he added.
He was able to locate and shoot an ibex with the help of his custom-made rifle and the hunters' guides, who kept him aimed at the oldest members of the herd.