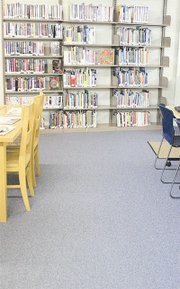 MABTON - The Mabton Library is back in action just in time for the holiday break.
The local library closed for two weeks, starting Nov. 30, to insert new carpet inside the facility.
The project was funded by the Friends of the Mabton Library and the city of Mabton.
Earlier this year, Friends of the Library asked the council to help contribute towards the purchase of the new carpet. The initial bid totaled nearly $3,500. The Friends of the Library contributed $1,000 towards the cause.
The library re-opened last Friday, Dec. 14, and is in full operation with its brand-new carpet.
"This is truly a significant improvement to the Mabton Library," said Kim Hixson, Director of Yakima Valley Libraries. "We used this opportunity as well to replace aging furniture and to help provide a more efficient workspace for staff and a more welcoming space for library customers."
The Mabton Library is located at 415 B Street, and is open Monday through Friday from 2 to 6 p.m. In addition to public computers, the library also offers full library services.
"Take a few minutes to visit the library and see the improvements," Hixson said. "We are very proud of our partnership with the city of Mabton and the Mabton Friends. Together we can make these significant changes in our communities."