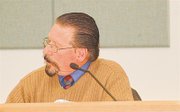 Sunnysiders can expect the double whammy of a utility tax hike and increased water/sewer rates in 2013.
That's according to recommendations by a majority of Sunnyside City Council members last night, Thursday.
Interim City Manager Frank Sweet asked council for direction on several issues for help in developing a final budget proposal for 2013.
As for tax increases in the new year, most of the city council expressed support for upping the utility tax three-fold, from 6 percent to 18 percent. A chart provided last night showed that neighboring communities have utility tax rates that average in the range of 25 to 29 percent.
As with most of the recommendations made last night, the utility tax rate hike was not unanimous.
Councilman Jason Raines, for instance, said he could only support an increase from 6 percent to 10 percent for utility taxes.
As for raising water and sewer rates, though a majority favored the tactic it was not unanimous. Mayor Mike Farmer, for example, said he could not support a sewer/water rate hike while at the same time implementing a utility tax increase.
In keeping with a number of public comments last night, council for the most part agreed to keep the Sunnyside Police Department intact and retain the position of deputy chief.
Among those commenting during public testimony last night was Officer Jim Ortiz. "I'm here not as an officer but for the community because I live here," Ortiz said in asking for the police staff to be maintained.
"Nothing is as important as the safety of our families," was another comment, submitted by Silas Curfman and read into the record by Mayor Mike Farmer.
Councilman Nick Paulakis was adamant in not reducing staffing for the police department, noting two of his students at the high school have been gunned down, including one across from his home.
Again there was dissent, as council was not unanimous in leaving police staffing untouched.
Council members Jim Restucci, Theresa Hancock and Raines, for example, were in favor of eliminating the deputy police chief post, noting the move would still leave the same number of patrol officers while helping the city cut into its budget deficit.
"Municipal jobs are not lifetime positions," said Restucci. "No one is entitled."
For its part, the Sunnyside Police Department offered some cost reductions to help the city meet its budget shorfall for 2013.
In a memo to Sweet yesterday, Deputy Chief Phil Schenck suggested having staff take care of janitorial services, closing the front counter, eliminating animal control services, eliminating the SWAT team and eliminating the K-9 program.
After last night's meeting, Sweet said discussions would continue with the police department as to possible cost-savings staff would consider.
Council was unanimous last night in retaining Deputy Fire Chief Lloyd Hazzard through Oct. 31, 2013, when he will retire. After that date the position will be eliminated.
Hazzard's post was saved, in large part, because fire department staff agreed to forgo cost of living increases next year.
Also last night, Raines pointed out that Sweet's salary will not increase next year because he is under contract as an interim city manager. Raines added that when the city hires a permanent city manager, then negotiations will be needed.
In other recommendations made last night, council agreed to re-fill a supervisory post in the public works department that council eliminated a few years ago.
The city has seen administrative staff dwindle to one in the public works department, even as it has added new projects this past year such as taking over the airport and a downtown revitalization effort.
A majority of council also agreed with exploring a budget plan suggested by Deputy Mayor Don Vlieger.
Again, there was dissent as Hancock critiqued Vlieger's plan for relying on one-time funds to meet on-going budget needs, such as taking $100,000 from a garbage fund surplus.
"I feel disingenuous in taking money on the guise of garbage and using that for one-time money," said Hancock. She added that applying one-time funds to the city's on-going budget woes is like "putting a bandage on a sucking chest wound."
With a Dec. 31 deadline looming to get a 2013 budget on the books, Sweet said the goal is to deliver a final 2013 budget plan for council action next Thursday, Dec. 27.
To that end, Vlieger, Restucci and Sweet during last night's meeting agreed to form a sort of ad-hoc committee to review and fine-tune budget proposals.