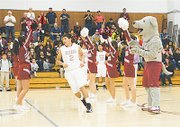 GRANDVIEW - It was a nail-biter in Grandview last night as the 'Hounds took on the Wapato Wolves and lost a valiant battle at the very end, 68-58.
There were nine lead changes throughout the four quarters of last night's shootout, and the largest lead (11 points) was held by Wapato just before the final buzzer. Grandview dropped in one final free throw point to account for the 10-point loss.
The opening quarter went Wapato's way, as they outscored the Greyhounds 19-15. Grandview battled back in the second quarter, outscoring the Wolves 18-14.
The score was tied 33-all at intermission and both teams took to the court, fighting for every shot in the third stanza. It was Wapato that came out on the winning end, tallying 21 points and holding the Greyhounds to 13 in the quarter.
Grandview couldn't bounce back as the teams matched one another nearly shot for shot in the final stanza. Wapato outscored the home team 14-12, though.
The Greyhounds just couldn't stop the triple threat of Gibby Peterson, Hank Strom and Adam Vela, who each scored 12 points to keep Grandview's defense on its toes.
Leading the Wolves in scoring, however, was Shawn Craig, who tallied a team high 13 points. He also beat everyone to the boards seven times.
Grandview's leading scorer was Isaiah Gonzalez with 20 points, 18 of which were from inside the paint. He snatched seven balls from the defensive boards and three came off the offensive glass.
Isaiah Ruiz was right behind his teammate, contributing 18 points to the Greyhound score, and Joey Saenz scored in double digits with 10 points.
Neither team had a lot of time at the charity stripe. Wapato dropped in seven of nine shots, while Grandview was 5-for-8.
The Greyhounds (3-3, 4-4) will be on a break until Friday and Saturday, Jan. 4 and Jan. 5, when they travel to Toppenish and Prosser, respectively.