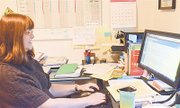 Like most individuals who find themselves learning the ropes of writing grant proposals, Sunnyside's Sue Jetter got her start working for a non-profit organization.
Jetter, who owns Jetter Consulting Services, first found herself trying to obtain funding for a domestic violence program in California.
While working for the program, her responsibilities included re-applying for funding from the seven different sources that financed it.
Jetter said she had to write grant reapplications, but when she and her husband, Ron, moved to Sunnyside she took a break from grant writing.
She served the citizens of Washington state as a Washington State Division of Child Support Enforcement officer for several years.
"That work was difficult," said Jetter, stating she spent seven years working for the state agency before deciding to return to grant writing.
A local position was available and she applied to help find funding for a project being developed through a partnership between the city of Sunnyside, Port of Sunnyside, Sunnyside School District and Sunnyside Community Hospital.
Jetter said she worked for the partnership for four years before branching out on her own to help other organizations in the region.
"There's no formal degree program for grant writing," Jetter noted, stating there weren't even professional classes for her line of work until recent years.
Much of the experience obtained by those in her profession is gained by working for a school district, city or other organization.
However, the Grant Professional Association was formed in 1998 and Jetter joined the group. In 2007, she was among the first group of grant professionals to gain certification in the field via an exam that was newly administered.
"There are approximately 400 individuals nationwide who have obtained the certification," Jetter noted, stating not many grant writers work independently of an organization.
She said she enjoys grant writing because she can serve various organizations seeking to complete community projects.
Jetter serves the Port of Sunnyside and the Prosser Economic Development Association on a retainer. That provides her the opportunity to be available when either organization needs her services and she is able to research possible funding sources when she isn't working against a deadline.
"The hours are longer when a deadline is approaching and many grants have deadlines that come at about the same time," she noted.
"This is a great job and it works well to be self-employed because I can balance the busy times with working fewer hours when I don't have deadlines," Jetter said.
She said she provides services to other organizations who don't pay her on a retainer on a project-by-project basis and it is important to pay attention to the details provided in a grant proposal.
Jetter said each grant requires research to ensure she isn't applying for funding for which a specific project or organization doesn't qualify.
"It's kind of like being a terminal student...I have to ask numerous questions about various projects, research funding opportunities, write the proposals and move on to something new," said Jetter, noting she finds the reward is seeing a project for which she obtained funding completed.
In the past 12 years, Jetter said, she has obtained approximately $19 million in funding for community projects like the recent John Hughes Student Health Center being completed by the Sunnyside School District.
"Seeing the end result...that feels good."