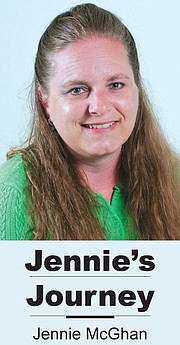 Each Christmas families gather together to create memories.
It's the memories of my childhood Christmases that often bring joy to my face.
I remember gathering at my Grandpa and Grandma's home each Christmas Eve. My father's family was full of laughter and everyone dragged Grandpa into the spirit of the season.
My grandparents' five children, their spouses and all 10 of us grandchildren would crowd inside the overheated house to enjoy Christmas Eve together.
It was always great to see my cousins, most of whom were older than me. I looked up to them both literally and figuratively. I never felt as though they treated me like a "little kid," though.
I remember a couple of Christmas Eves when an uncle and his wife added foster children to the mix. Another year, one of my aunts had remarried and her new husband's children joined us for the festivities.
Grandma and Grandpa made each of us feel so very special on Christmas Eve.
We each received a new snow sled for our very first Christmas. You know...the kind with the runners.
After my father died, my sister and I would visit my grandparents every other weekend. Those sleds came in handy in the winter because we could take them up the hill near the home of an aunt and uncle from my mom's side of the family.
The hill was just a quarter mile from my grandparents and no one minded us wandering off.
We would sled down the hill until we were chilled and needed to cuddle up to the extra warm fire Grandpa always had going.
My memories of those years with Grandma and Grandpa are filled with warmth and family. I don't recall all the intricacies, but I do remember a white elephant gift in the form of a strange teddy bear being given to an unsuspecting relative each year. Most of all, I remember the love of my family, which last gathered six years ago for Grandpa and Grandma's memorial service.
The memories are something I will always cherish. The people I love remain alive to me thanks to those memories of Christmas past.