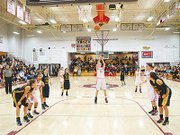 GRANDVIEW - Grandview's go-to scorer, junior Payton Parrish, was smothered by the visiting Wapato Wolfpack last night. While holding the prolific scorer to just seven points, nearly 20 under what she normally pumps through the net each game, Wapato also used an impressive 18-8 run in the third quarter to steal a win from the Lady Greyhound basketball team on Grandview's court, winning 51-42.
For Grandview's girls, it was only their second loss in CWAC action this season. But, the Lady 'Hounds, sitting at 4-2 in conference play and 5-3 overall, now trail both Wapato and Ellensburg in the league standings, as both those clubs are 6-0 in CWAC match-ups.
Grandview was still within striking distance at halftime Thursday evening, down by only a 26-16 count. Wapato, though, riding the double-digit scoring performances of Brianna Cordova (15), Darian Gasseling (11) and Lexi Gomez (10), exploded for 18 third-quarter points while holding the host club to just eight points.
The Lady 'Hounds made a push at Wapato in the final stanza, outscoring the visitors 18-7 down the stretch. But it was too little, too late, as the Wolfpack hung on for the nine-point margin of victory.
With Parrish pretty much bottled up by Wapato's defenders, Grandview turned to Samantha Grove and Marisa Caballero on the offensive end of the court. Each popped in 10 points in the losing cause.
Grandview will be out of action for two weeks over the holiday break. The Lady 'Hound hoopsters return to the court with a pair of road games on Friday and Saturday, Jan. 4-5, at Toppenish and Prosser.