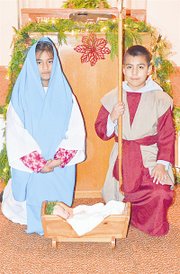 GRANDVIEW - Mary and Joseph began searching for a room to sleep in. But the two were too late, the town of Bethlehem was full and there was no room for the couple to get in out of the night.
Finally, accommodations were secured at a stable, complete with animals and hay. Mary was about to give birth, and the couple celebrated as the Christ child was born.
The couple, depicted by Smith Elementary School students Emily Garcia and Cesar Farias, led a group of nearly 40 Grandview residents and Iglesia Del Pueblo church members on a journey of their own last Friday. The group, celebrating the church's annual Las Posadas event, sang Christmas carols in English and Spanish as doors were closed and the couple and its entourage had to continue their search for a place to lay their heads.
Following the trek, Pastor Tony Sanchez asked the congregation why Christmas is really celebrated. Many shouted out answers, including "presents," "Jesus," and the like.
But Sanchez says it goes deeper than that.
"In the beginning when the first sins (occurred), God promised to send us a savior," he said. "We celebrate the birth of our savior."
In addition, Sanchez says fellowship with fellow believers is also extremely important, and that is what the group did over a bowl of pozole to bring an end to last Friday's re-enactment of the journey into Bethlehem and the birth of Jesus Christ.