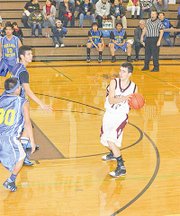 Sunnyside Christian this past Friday and Saturday secured two more wins, improving the Knights' season record to 7-1.
The two games were the league openers for the Knights.
On Friday, Sunnyside Christian defeated Klickitat on the Vandals' home court, 76-19.
Brian Bosma, head coach for the Knights, said the game was pretty uneventful.
It provided his team an opportunity to give everyone time on the court.
Sunnyside Christian took an early 11-6 lead, scored 29 points in the second stanza, added another 19 points in the third quarter and tallied 17 points in the final stanza.
Klickitat was held to two points in the second quarter, seven points in the third and four points in the final quarter of the game.
A team-high 17 points for Sunnyside Christian was scored by Alex Brouwer, Drew Scheenstra tallied 12 points and Brandon Broersma dropped in another 11 points.
Saturday the Knights hosted Yakama Tribal, which gave Sunnyside Christian a bit more of a challenge.
The Knights, however, won 77-45 and were again led by Brouwer, who tallied 19 points.
Brant Bosma contributed 15 points to the final score, while Broersma tallied nine points.
"The game was more off balance against Yakama Tribal," said Coach Bosma.
He said there were a couple of Eagles who presented a defensive challenge.
Justin Shilow and Andre Holguin combined for 30 points against the Knights.
"We executed well and that had a lot to do with our success," Bosma said of the win.
Sunnyside Christian led by 12 points after the first quarter, added another 22 points to the scoreboard in the second quarter, outscored the Eagles by two points in the third stanza and maintained the lead, outscoring Yakama Tribal 21-16 in the final quarter.
Bosma said the strength for the Eagles was from the perimeter. He said, "They shot and were successful. They had some quick threes and we weren't as tight as we needed."
Although Yakama Tribal was successful from outside the 3-point arc, Sunnyside Christian maintained the pressure and was able to give everyone a chance to rotate in from the bench.
Bosma said the team performed well defensively, coming away with 13 steals in the opening half of the game.
He did not have any other statistics available, but said, "As a team, it's good to give everyone an opportunity to play."
Sunnyside Christian will have another opportunity to face Yakama Tribal after a nearly two-week break. The two teams will meet again on Friday, Jan. 4, in Toppenish.