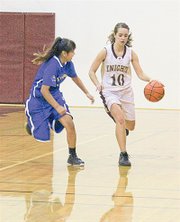 The Lady Knights started off league play with two wins over the weekend to finish out a tough pre-Christmas schedule.
Last Friday night Sunnyside Christian traveled to Klickitat and defeated the Vandals by a decisive score of 74-18.
"It was a game where everybody played all four quarters," said Lady Knights Coach Al Smeenk. "We had seven girls and they all got time."
The Lady Knights were led by Katelyn Banks, who bucketed 23 points and pulled 14 rebounds off the boards for a double-double.
Kara den Hoed was the next highest scorer for Sunnyside Christian with 14 points. Stormee Van Belle had a relatively quiet game with 13 points and nine rebounds.
"It was a good game for us," said Smeenk. "We didn't press at all and ran some set plays."
On Saturday the Lady Knights faced off against Yakama Tribal at home and again came away with a victory, 64-47.
"Not everybody played all four quarters," said Smeenk. "Yakama Tribal has improved. They have a good team this year."
Smeenk said his team was a little tired. They were playing their fourth game in five days.
"I was disappointed we gave up so many points," said Smeenk. "Yakama Tribal has two really good players, the Wapsheli girls. They can hit from outside."
Lynndel and Athena Wapsheli together accounted for 41 of the Eagles' 47 points. Smeenk said they hit 3-pointers from well behind the line and also could drive to the basket.
"They were tough to stop," said Smeenk. "We have some adjustments to make before we meet them again in January."
Van Belle topped the scoring for the Lady Knights in the win, earning another double-double with 18 points and 21 rebounds. Banks put in another 15 points and Brittany Broersma bucketed another 12.
"We were a step slow," Smeenk said in detailing an area of the game his girls need to work on. "The intensity wasn't there."
The Lady Knights (2-0, 8-0) will visit the Yakama Tribal Eagles on Friday, Jan. 4. Sunnyside Christian will then play at DeSales on Saturday, Jan. 5.