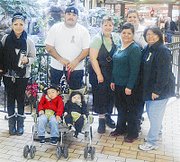 The 27 minutes that Betty Garza spent at Sunnyside's Mid Valley Mall last Friday morning will surely stay with her a long while.
"It was the best part of my day," Garza added.
Last Friday morning, as many across the nation were remembering the victims of the Sandy Hook Elementary School tragedy in Connecticut, a few Sunnysiders decided to take it a step further.
In honor of the 27 lives lost in the school shooting tragedy last week, a Sunnyside group of nearly 10 walkers and stroller riders paced the mall for 27 minutes. The group donned green ribbons and a somber reverent aura followed them as they commiserated and remembered the victims of the massacre.
"We were doing it from our hearts," Garza said. "We have children of our own, and if we could do anything to keep their memories alive, this was the least we could do.
"God bless them," she said.