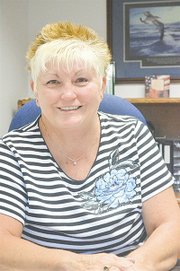 Port of Sunnyside Executive Director Amber Hansen has set her sights on Arizona, opting for fair weather and warm toes in her retirement years.
Officially, her last day on the job will be next Monday.
For nearly 22 years she has devoted her attention to economic development and community activism in Sunnyside.
Hansen has served on a variety of boards, been an active member of Sunnyside's Daybreak Rotary Club, helped spearhead a number of Port of Sunnyside projects and been a leader, bringing economic opportunities to the Yakima Valley.
She helped establish Yakima County's Supporting Investments in Economic Development group and worked with a variety of economic development groups like New Vision.
To say Hansen leaves behind a legacy would be an understatement because she hasn't only focused on the business aspect of supporting the community.
She is a firm believer in the people in the community, as well.
Sunnyside Chamber of Commerce Director Pam Turner and local businesswoman and city council member Theresa Hancock both consider Hansen a friend.
Turner said Hansen is a great sounding board for ideas.
"We worked together on numerous projects, including the South First Street kiosk and the annual Show & Shine Car Show held during Sunshine Days," said Turner.
She said Hansen has been an advocate for community events sponsored by the chamber and has always had positive input for improving the community.
"She has always looked out for the best interests of Sunnyside," said Turner.
Hancock agreed, stating Hansen has a good reputation in the community.
"I had heard of Amber before I met her...she was known as a strong woman with a sense for business," said Hancock.
She said the two first met over lunch just after Hancock was elected to serve on the Sunnyside City Council.
"We quickly developed a friendship," Hancock said, stating she and Hansen realized they shared many common interests.
Hancock said Hansen has over the years been a person to whom she could turn for advice. "But, she was quick to admit when she was mistaken about something," Hancock said of Hansen.
Hancock said Hansen is a committed individual. If Hansen saw an opportunity to become involved, she did so and she did it with passion.
"She's a doer," said Hancock.
Former Sunnyside City Manager Dave Fonfara, too, had a positive relationship working with Hansen.
He said working with Hansen for more than a decade he witnessed her taking a role as a visionary leader.
Fonfara said Hansen was skillful in her management and exhibited a determined effort to represent the best in a public official.
"She was personally responsible for leading several successful economic development initiatives, supporting business development, jobs creation and a sustainable economy throughout the Yakima Valley," said Fonfara.
New Vision President Dave McFadden agreed, stating Hansen embraced projects and issues, using "...a ton of common sense."
He said he has enjoyed working with Hansen because she was tireless in her efforts to advance the Port of Sunnyside and community interests.
"(Hansen) left her fingerprints on a lot of development in Sunnyside that is helping support the local economy," said McFadden.
Port of Sunnyside Commissioner Jeff Matson has a few insights, as well.
He said Hansen is good about keeping an open and honest rapport with the commissioners, establishing a rule of "no surprises."
"We all knew there were times where the possibility existed that publicity on one thing or another may not always be positive, but she had a goal to make sure the commission was aware of anything going on that had the possibility to turn negative," said Matson.
He said he was never surprised about any news, good or bad, because of Hansen's determination to inform the commissioners firsthand of developments within the Port of Sunnyside.
Hansen has already headed to the state of Arizona, but her final day as director for the Port of Sunnyside is officially next Monday, Dec. 31.
Everyone agreed that Hansen will be missed greatly, but they wish her happiness in her retirement.