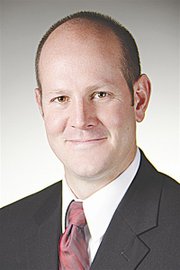 A new face has appeared at the Sunnyside location of Yakima Neighborhood Health Services, one familiar to patients at Grandview Medical Center.
Dr. Derek Weaver is spending two half-days per week at the Sunnyside clinic providing primarily OB services. The arrangement is due to a partnership agreement between Sunnyside Community Hospital and Clinics and Yakima Neighborhood Health Services to help provide care to local patients.
The patients Weaver sees at the Sunnyside clinic will deliver their babies at Sunnyside Community Hospital's Family Birth Center.
"Dr. Weaver continues to spend the majority of his time at Grandview Medical Center, where he provides full service family practice medicine, including OB care," said hospital spokesperson Sandra Linde. "He is currently accepting new patients at Grandview Medical Center. Appointments can be scheduled by calling 882-1855."