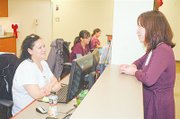 GRANDVIEW - Originally scheduled to be based in Prosser, a new medical residency clinic will be operating at the Yakima Valley Farm Workers Clinic starting next June in Grandview.
A residency program provides graduate medical training for those who have received medical degrees, and allows them to practice medicine under the supervision of fully licensed physicians.
"We looked at training opportunities in the Lower Yakima Valley," said Dr. Katheryn Norris of Sollus Northwest, which will run the residency program. "In doing so, we noted that the (Yakima Valley Farm Workers) Grandview Medical and Dental Clinic has a large population/patient base, a diverse practice and a number of auxiliary services which better matched the full scope of family medicine care to train family physicians to work in rural and under-served areas."
Norris, who formerly practiced as a physician at Sunnyside's Lincoln Avenue Family Medicine Clinic, also praised Grandview's central location as a point of easy access for patients living in Sunnyside and Prosser.
A plus for doctors in the residency program here is that they will have access to a wide range of specialty practices such as pediatrics and internal medicine in addition to family medicine.
The residency program will also provide doctors the ability to not only refer their patients to specialists, but to work with on-site services and staff at the Grandview clinic, including pharmacy, lab and radiology departments.
"The whole team is really excited about the program," said Andrea Jimenez, a pharmacy tech at the Grandview clinic.
"We're looking forward to the residents," added Gina Briones, a medical assistant at the Grandview site.
Norris says plans are to also collaborate with the hospital in Prosser, as well as Yakima's Pacific Northwest University of Health Sciences.
The Farm Workers Clinic in Grandview underwent a remodel earlier this summer, and that will continue as three exam rooms at the clinic will be outfitted in the coming months to meet the residency program's needs.
Norris says that includes a remote, closed-circuit camera in the three exam rooms so those mentoring the residency program can observe residents at work and offer critiques and praise. She said patients will be notified in advance of the camera, which will focus on the resident.
Since it is accredited through the American Osteopathic Association, the residency exam rooms will be outfitted with special tables so doctors can perform manipulations.
Norris says the idea is to encourage more physicians to locate in under-served areas by providing them residencies in rural communities.
The hope is that doctors in Grandview's grant-funded residency program will establish ties to the Lower Valley and desire to stay in this area when their three years are complete.
She says it's a contrast to the typical residency system, which has doctors working in large urban areas then asking them to move to smaller, rural communities after a three-year residency.
"Physicians often end up practicing where their training is received," Norris said.