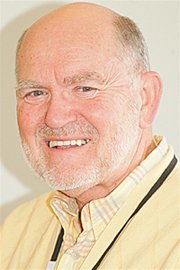 After seven years as a chaplain for Lower Valley Hospice and Palliative Services, Rev. Dr. Allan Johnston has retired.
Johnston, 69, came to the Sunnyside-based non-profit after serving as a pastor in the Yakima area for 20 years.
He briefly left the area to work with a church in Tillamook, Ore., but returned when his wife, Judy, became terminally ill with ovarian cancer.
Johnson's plan was to take his wife back home to enjoy her final years - "I wanted to help my wife die well," he says - but in the process he ended up finding a new vocation.
He explained that in moving back to Yakima he came with no job in hand and needed employment.
Johnston's calling as a minister and first-hand experience with grief in losing his wife prepared him for a new chapter.
"I jumped at the opportunity to be a hospice chaplain," he said.
Though he didn't have experience as a full-time chaplain previously, Johnston's spiritual background and own experience proved invaluable.
"The patients and their families really taught me a lot," he says. "It's been a real honor working for Lower Valley Hospice, and an honor to work with people in their most intimate moments of grief."
Johnston has since re-married and says he decided to retire to provide more time for travel - his wife's son is a pilot and that allows the couple to fly standby for free - and not be tied to an 8-5 position.
At the same time, retirement gives him the chance to serve in new ways.
That includes working on an independent basis with individuals who are going through the grieving process.
Johnston has also recently become a board member for a crisis pregnancy center in Yakima - so he's assisting those experiencing life in its very earliest stages as well as its end.
He says work with the pregnancy center and hospice have been an opportunity to dispel untruths purported by some in society who would say that the end of life and the beginning of life in the womb aren't worthwhile.
"All of life has quality, even in the dying process," he smiles. "There's quality even when you can't see it."