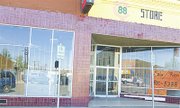 MABTON - The Mabton School Board in a special meeting yesterday morning (Thursday) approved an emergency resolution, authorizing the use of a sole source for shoring and repair work to be completed on the Mabton High School auxiliary gym.
The gym has not been used since structural failure was discovered earlier this year.
John Hultman of Hill International was at the end of October hired for his engineering expertise. Yesterday he told the school board members that the gym sits atop a framed floor joist system, which calls for a careful approach when shoring up and repairing the gym's truss system.
For that reason, Hultman said it is best to use a company that can shore the trusses up, using specialized techniques. Safeway Construction of Hillsboro, Ore. has shored up bowstring truss systems before, he told the school board directors.
However, he recommended Mountain States Construction of Sunnyside be hired to help Safeway Construction open the ceiling of the gym to provide access to the truss system.
Once the system is shored and protected, said Hultman, the design for repairs can take place. Another firm from Oregon, Western Wood Structures, has the engineering expertise to design the repairs, according to Hultman.
He noted the various steps are necessary to protect the auxiliary gym's flooring system. The engineers can determine if there are additional structural repairs needed, as well.
"In all my research it came to me that we need to go to a sole source (procurement)...the shoring and repair contractors can work together to make the process as seamless as possible," said Hultman.
Once it is determined the extent of the work necessary, he said he plans to meet with the Mabton School Board again.
Mabton Schools Superintendent Minerva Morales reminded the school board members that the school district's insurance carrier will be paying for the cost of shoring and repairing the auxiliary gym's truss system.
The school board members approved the emergency resolution by a 4-0 vote.