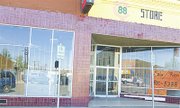 A group of a half-dozen volunteers is working hard to help improve the downtown core by promoting vacant buildings in the area to potential new business owners.
The downtown improvement group has been focused on gathering information about downtown buildings to post on the Sunnyside Chamber of Commerce website. This inventory of vacant commercial property will help merchants who may want to jump on the downtown revitalization bandwagon to find the perfect location.
For the moment the group has focused on finding publicly available information about the buildings. Eventually the group hopes to work with property owners to resolve barriers and make the properties more marketable.
"We're moving in little baby steps," said Sue Jetter, the driving force behind the effort. "We are narrowly focused at the moment to take advantage of the revitalization project."
Jetter said the idea is based on the Main Street Model, a national effort to transform the way communities manage their downtown cores.
"I thought if we can just pick one thing and do it, we'll make progress," she said.
Jetter said there isn't a better time to work at getting more businesses into downtown. The revitalization project is moving forward and businesses will soon benefit from the newly designed sidewalks and streets.
The group currently has six properties prepared to go live on the chamber website at sunnysidechamber.com by the first of the year. While the group is staying focused on downtown, they welcome interest from other citizens or property owners.
"We can use more volunteers," said Jetter. Anyone interested should email info@sunnysidechamber.com.