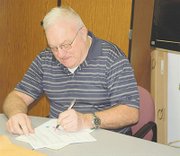 MABTON - Facing three vacancies on the Mabton School Board, the board didn't have to look far to fill one of those slots.
James Adams, a former Mabton mayor and 30-year history teacher at Mabton High School, was sworn in as Mabton's newest school board member during a meeting on Dec. 18.
"The chair of the school board is a former student of mine and she said they're having trouble filling a vacancy so I volunteered," Adams says of his decision to seek a post on the Mabton School Board.
He's only had two meetings now with the board, but Adams says he can already see the vital work being done.
"It's a much more serious endeavour than I anticipated," says Adams, 74. "I think it's an important task."
Looking ahead to 2013, Adams says his focus in serving on the board is "...to have a social harmony among the schools and make sure everything runs smoothly."
Since he's so new to the board, Adams says he hasn't decided yet if he will eventually seek election to the post.
He does have a pretty good idea, though, that his experience as Mabton's mayor and facing the responsibility of developing an annual budget will serve him well on the school board.
"It's a pretty responsible job," he says of developing a governmental budget. "I think that experience will be transferable."