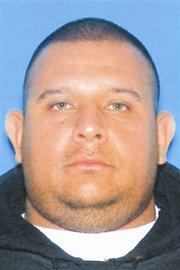 Just after midnight last night, customers at the Dark Horse Inn were running scared as they heard shots fired inside the building.
According to reports, an employee at the Dark Horse called officers an hour earlier, at 11:20 p.m. last night, reporting disorderly conduct. Officers performed a walkthrough of the Sunnyside nightclub and cleared the scene.
About an hour later, however, officers received more than 10 calls reporting four shots fired inside the building at 1400 Yakima Valley Highway in Sunnyside. Callers reported a large Hispanic male, wearing a black shirt, opened fire inside the restaurant. Officers from Sunnyside, Grandview, Prosser, WSP and the county departments were on scene last night. Officials noted the suspect was headed northbound on 13th Street in a gray car.
Reports indicated no one was injured in the shooting.
Armando Godinez Ramos, 31, has been named by police as the primary suspect. He is being sought on charges of two counts of second degree assault, and investigation of first degree kidnapping for allegedly pointing a hand gun at two people inside of the Dark Horse Inn dance club, and firing the gun into the ceiling. Ramos is also wanted for investigation of allegedly kidnapping and forcing his 22-year-old ex-girlfriend to leave the Dark Horse Inn with him.
Responding officers learned that a male patron attempted to stop an alleged domestic dispute between Ramos and the woman on the dance floor. Allegedly the patron knocked Ramos to the floor to stop Ramos' assault on the woman. It was reported that Ramos pulled out a handgun, pointed it at the patron and another woman before firing the gun at least twice into the ceiling.
Initial reports indicated that the man with the gun allegedly grabbed the woman that he had just assaulted and forced her to leave with him. While leaving the club the man allegedly fired the gun one more time.
All gun shots appeared to have been directed upward into the ceiling, according to police.
The woman was later located at home by police and found to be in good condition.
Police are actively investigating this case. Neither Ramos nor the gun have been located. Ramos is known to use numerous aliases and is the alleged shooter in this case. Police say Ramos is from Sunnyside, 6-feet tall, weighs 270-lbs. and has hazel-colored eyes.
Sunnyside police officers also investigated two calls reporting thefts yesterday. One report came from the Sunnyside Wal-Mart, where an employee was accused of internal theft. Another theft report came from a resident, who after getting his vehicle repaired, said several items were missing from the vehicle. Items allegedly missing included a stereo, CB radio and a radar detector.
Officers also responded to four citizen assistance requests, two agency assists, two informational calls and a welfare check request yesterday. Other calls to the Sunnyside Police Department yesterday included reports of two automatic alarms, an animal complaint, disorderly conduct, domestic violence, fraud, two juvenile problems and a report of lost property.