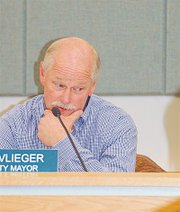 It was a budget that council members claimed to dislike, but apparently learned to love as by a 6-1 vote the Sunnyside City Council last night approved the 2013 budget.
The budget okayed at Thursday night's special meeting raises taxes and utility rates on Sunnysiders to the tune of about $20 per month. At the same time it retains all current city employees...for now.
"I do not like the budget," said Councilman Jason Raines. "In our workshop sessions I advocated for lower taxes and more cuts than what we're talking about."
But, in a sentiment echoed by most of council, Raines was on board with the 2013 budget because it maintained public safety services.
To that end, Sunnyside police employees made concessions last night in agreeing to forgo cost-of-living increases and physical fitness incentives for 2013.
The police guild also agreed to extend its current contract to 2013 and begin negotiations next July for a 2014 contract.
In other steps to keep the current police force intact, one detective vacancy will remain unfilled and the crime analyst and administrative assistant posts will be combined.
The general fund budget for 2013 - which covers most of the city's day-to-day operations - calls for Sunnyside to collect $8.407 million in revenues and spend $8.348 million. Both numbers are down from 2012's projections, which called for $9.208 million in expenses and $9.496 million in revenues.
Of the general fund revenue forecast for 2013, almost 10 percent will come from a three-fold increase in utility taxes on Sunnyside residents, from the current 6 percent utility tax to 18 percent scheduled for 2013.
On top of that, council approved a move to more than double the monthly ambulance fee to $8.28 a month, plus hike water and sewer rates by 3 percent each.
Overall, the 2013 budget calls for total expenditures of $21.9 million and revenues of $22.7 million.
The cost totals include $2.9 million for the street fund, $2.4 million for sewer and nearly $2 million for the water fund.
The budget approved last night was in large part drafted by Deputy Mayor Don Vlieger, with some input from Councilman Jim Restucci and Interim City Manager Frank Sweet.
It calls for spending nearly $140,000 in one-time monies to balance the 2013 budget - such as transferring $82,000 from the garbage fund into the general fund.
The idea of using one-time funds and what she claimed to be a closed budget discussion process drew fire from Councilwoman Theresa Hancock, the only no vote on 2013's budget.
"You don't do a budget on one-time only money," Hancock said, noting that a business conducting similar practices would be shuttered.
Vlieger countered that the amount of one-time funds is small compared to the overall size of the 2013 budget.
In addition, he noted the amount of one-time fund usage will actually be less because projected general fund revenues exceed expenses by $59,000.
Hancock also struggled with the utility and tax increases local residents will incur while at the same time not making budget cuts.
"I cannot vote for a $20 more a month with no cuts," she said. "We have not done our gut check with what we need to do."
Hancock suggested that although all city jobs are safe in 2013, that might not be the case in the future.
"We're going to be looking at more cuts next year," she said.
"We can only save these jobs for one year," Restucci agreed. "There are no sacred cows. If there are inefficiencies we have to get rid of them."
Councilman Nick Paulakis was adamant there be no pink slips issued in 2013, but last night cautioned department heads he won't be approving extra expenditures next year.
"One word will be coming from me - no," he said. "No is going to be a real popular thing."
Paulakis said if there's new machinery or vehicles department heads claim they need in 2013 those requests will be denied. He added staff will need to "...drive those babies until they can't be driven again."