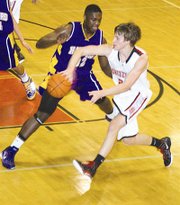 In its home finale of the 2011-12 season, the Sunnyside Grizzly boys basketball team faded down the stretch in a 60-43 CBBN loss to Hanford.
The Grizzlies trailed just 20-17 at the half.
The close game broke open in the third quarter when Sunnyside's post players got into foul trouble and Hanford took advantage.
The Falcons used an 18-11 third quarter run to grab a double digit lead heading into the fourth frame.
"When our post players got in foul trouble in the third quarter we had to pull them out of the game," said Sunnyside Assistant Coach Ruben Fernandez. "We went to a zone defense and we didn't do a very good job of defending the perimeter."
Fernandez said the Falcons at one point canned four consecutive 3-pointers in the third.
"We were a step slow getting out to the perimeter and they made us pay for it," he said.
Fernandez said the Grizzlies were down by as much as 20 points in the second half.
Sunnyside found an answer in the fourth quarter and cut the deficit to 12 points. Hanford then connected on six consecutive free throws in the final minutes to seal the win.
Fernandez said the Falcons also had several second and third looks at the bucket thanks to grabbing offensive rebounds.
Matt Jones sparked Hanford with 14 points and Falcon post player Joe Douglas just missed a double-double with nine points and nine rebounds.
Israel Manzo led Sunnyside with 12 points and five rebounds. Greg Spini and Trey Serl added 10 and nine points, respectively, for the Grizzlies.
Sunnyside (3-9, 8-10) is now a game out of the CBBN's sixth and final playoff berth, which is currently held in a tie between Southridge and Eastmont.
The Grizzlies close out the regular season this Friday and Saturday with games at Pasco and Kamiakin, respectively.