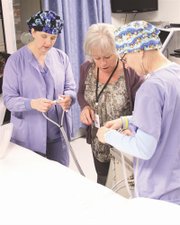 The Washington State Department of Health has been working for the past four years to fully implement an emergency cardiac and stroke system, similar to the statewide trauma designation system.
Sunnyside Community Hospital has received level II cardiac status and level III stroke status within the system. These designations granted in mid-January 2012 allow the hospital to meet the state requirements of appropriate care and also triaging from the field to appropriate facilities for cardiac and stroke treatment.
The goal is to stabilize stroke patients and get them into advanced cardiac care within 90 minutes of arrival at any hospital. About 10 years ago the state first recognized a disparity of stroke care between rural and larger urban hospitals.
Through this process of gaining stroke system designation Sunnyside Community Hospital had to develop policies and create codes that will be called when a stroke or cardiac patient arrives. Staff education on these policies has been underway for some time so the staff knows just what to do. Nurses will be required to obtain additional neurological and cardiac based training each year to stay current with knowledge/technology.
The hospital also purchased the Medi-Therm system which can be initiated in the ER for both the stroke and cardiac patient that will slow the damage to the brain or heart. The Medi-Therm Hyper/Hypothermia System delivers regulated heat or cold therapy with microprocessor accuracy and reliability. The Medi-Therm assists attending medical staff in influencing and maintaining a patient´s body temperature.
Community education about stroke symptoms, and what to do, will also be done to inform people in the Lower Valley about the stroke protocols. Often, stroke or cardiac patients who come into Sunnyside Community Hospital are transported to hospitals in Yakima for continuing care.