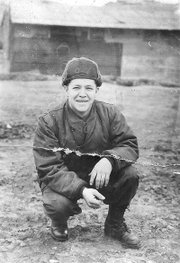 GRANGER - Billy Dunn, born in 1927, enlisted in active service for the United States Army on Jan. 19, 1951.
Private First Class Dunn served in the 539th Quartermasters Company during the Korean War.
While being shipped out to sea from San Francisco on a troop carrier, it was the first time he had seen the ocean and had ever been on any ship.
He told his children that he was seasick before the ship was underway to the Korean destination and he did not stop throwing up until they arrived.
At an early age, Dunn lost sight in his left eye, but still passed the vision test for entry into the army.
"Although he could have received a medical deferment, he chose to serve his country," a family member wrote in a biography.
Dunn went on to be awarded a Korean service medal with a bronze service star, and a United Nations service medal. Further, he was honorably discharged from the U.S. Army on Jan. 20, 1953.
Dunn, one of 21 children in his family, passed away in the 1980s.
This year his family, along with military supporters and families nationwide, will remember him for his service in the Korean War. The Granger man was recognized in the National Museum of the United States Army 2012 calendar. Dunn's photo is placed, along seven others who also served in the Korean War, above the July 2012 calendar, which reads, "Honoring these and all who served in the Korean War"
To order the calendar, visit http://www.usarmyregistry.org/store.