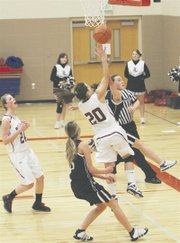 BICKLETON - The Lady Pirates fought hard to contain Trout Lake's top scorer at last night's home basketball game.
Trout Lake's Ashley Sampson single-handedly contributed 24 points, with six 3-point shots, to a Lady Pirate loss, 51-39.
The first quarter ended in a tie, 14-14, with Bickleton's chances looking good. In the second quarter both teams fought for the lead and Trout Lake walked into the half with a 13-10 run over the Lady Pirates with a halftime score of 27-24.
Beginning the second half, Bickleton managed to keep the score close, 33-30.
But the fourth quarter was doomed for Bickleton after Sampson banked in three shots from behind the 3-point arc, leaving Bickleton trailing by 15 points.
"We slowly starting ticking away at their lead but she (Sampson) had already done the damage," said Coach Emily Barnhart.
Jamie Venema was the only Lady Pirate to break double-digits with 16 points. She also grabbed 10 rebounds. Bickleton's Haley Goodnight added six steals to the game, and Amanda McBride brought down five rebounds.
The Lady Pirates (2-5, 4-7) host Yakama Tribal this Friday, Feb. 3. Bickleton will travel to Sunnyside Christian on Saturday, Feb. 4, for the team's second-to-last league game of the regular season.