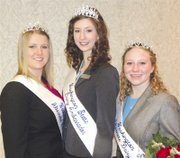 LYNNWOOD - The Washington State Dairy Women recently welcomed Kristen Wedam of Sunnyside as one of the Washington state alternate dairy ambassadors during a public relations forum at the Embassy Suites in Lynnwood.
Wedam was crowned by reigning Washington State Dairy Ambassador Shannon Rodeffer and Alternate Ambassador Emily Neff.
Wedam addressed the audience with enthusiasm, stating, "I am very happy to have this opportunity to serve as your alternate dairy ambassador and I will do my best to represent you and the dairy industry..."
She was a contestant in the 2011 State Dairy Ambassador Contest, representing the Yakima Valley.
Wedam is the daughter of Sue and Mike Wedam of Sunnyside, and reigned as 2010-11 Yakima Valley Dairy Ambassador until last June.
She will complete the reign of the alternate ambassador who recently stepped down for personal reasons.