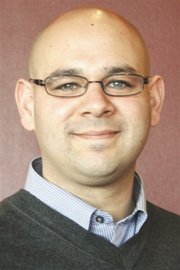 Joey Castilleja was searching for a local group to work with on a project for his Ph.D., and was delighted when Sunnyside Chamber of Commerce Executive Director Pam Turner suggested he help out in his hometown.
Castilleja is now working with the chamber to improve membership. The project is a step toward his dissertation and a chance to have a lasting impact in Sunnyside.
"This is the perfect project," he said.
Castilleja is working toward a Ph.D. in training and performance improvement, which covers the fields of education and human resources. His goal is to tackle problems in an organization, identifying the issues, then presenting workable solutions.
This is his third project, and the first in his hometown. He did one on hospitality and another in the area of financial services, both elsewhere in the state.
Sunnyside's project started with a chat to find out what the chamber of commerce needed. In the case of the chamber, Castilleja learned that Turner is disappointed in the low membership.
The focus of the project became finding out why the membership is low and determining ways to solve the problem.
"Castilleja is fabulous and very knowledgeable," said Turner. "I'm very excited to be working on this project."
The next step of the project is to gather data for a performance analysis. Castilleja plans to send out email surveys this week to businesses that are currently members of the chamber, some past members and some that have never been members.
Once the surveys have been collected and analyzed, Castilleja will present his findings at the chamber of commerce meeting.
"I often will come up with things they already know, but haven't faced," he said. "Some of the problems are new. They'll say, 'I never thought of it that way.' There's usually a lot of 'a-ha!' moments."
Castilleja will be documenting his projects at www.geniuscoach.com, a website he's set up. He said the projects he's working on amount to a "built in internship" in which he is working on unpaid jobs that will build up his portfolio.
The ultimate goal of the project, for Castilleja, is to write an article and submit it to peer reviewed journals where it can further the fields of education and human resources.
Anyone who might want to take the survey can contact the chamber of commerce to be included on the list. Those without access to email can ask for a paper version of the survey.
Castilleja also said anyone who might want to be part of the focus group should contact the chamber.