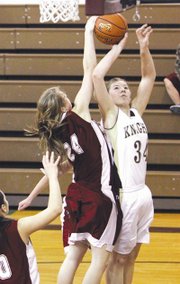 The Sunnyside Christian Lady Knight hoop team kept its perfect league season intact this past Friday and Saturday with victories over Trout Lake-Glenwood and Bickleton.
Sunnyside Christian took control early Friday at Trout Lake, outscoring the hosts 34-14 at the half. The Lady Knights led by as much as 38 points Friday night in cruising to the 62-28 victory.
Despite the overwhelming victory, the Lady Knights only outrebounded Trout Lake 37-30. "That just shows how scrappy and athletic they are," Sunnyside Christian Coach Al Smeenk said of the hosts. "They got several offensive boards that we thought we should have gotten, we just have to be more physical."
As it has been all season, Sunnyside Christian's attack on offense was keyed by stalwart defense. Smeenk praised the play of Marisa Broersma, Maddie Wavrin and Kara Den Hoed in covering Trout Lake-Glenwood's guard duo of Ashley Sampson and Dakota Jones.
"We know they have very good guards who can penetrate and shoot the three," Smeenk said. "We knew we had to do a good job of stopping them and we did." Sampson was held to 13 points, eight coming in the fourth quarter against SCHS reserves. Jones scored two points in the first quarter and was shut down the rest of the way.
Broersma paced Sunnyside Christian with a game-high 16 points and 11 rebounds, while Alyssa Haak added 12 and Stormee Van Belle 10 points. The Lady Knights also got a boost from Wavrin and Annie Brouwer with seven points each.
On Saturday the Lady Knights played their home finale and built a 32-0 halftime lead over Bickleton on the way to a 67-14 victory.
"It was a struggle for them to score," Smeenk said of the visiting Pirates.
Bickleton Coach Emily Barnhart added, "It was not our finest first half of the season." The coach praised her team's third quarter play, though, in which the Lady Pirates were only outscored 16-10.
"I was very proud of their third quarter play," said Barnhart. "If we could only do that in the first, second and fourth quarters we'd be set."
Den Hoed led the Lady Knights with 16 points, while Danika De Groot added 10 points. Micki Williams tallied eight points for Sunnyside Christian, while Brittany Broersma and Stormee Van Belle added seven and six points, respectively. Katie Long also chipped in five points for the Lady Knights.
Lindsay Brown paced Bickleton with seven points and four blocked shots. Teammate Jamie Venema added four points and seven rebounds.
Bickleton continues regular season play tonight, Monday, with a contest at Lyle.
Sunnyside Christian ended its regular season at 19-1 with the weekend sweep and opens postseason play this coming Friday at Goldendale against Bickleton or Klickitat.