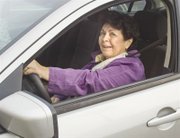 After suffering a stroke in 1996, Teresa Garcia found herself needing something to occupy her time.
"It's not me," she said of being stuck at home. She'd been very active before the stroke, working for Child Protective Services.
A friend invited her to learn about volunteering, and she now has a full plate. She re-qualified for her driver's license, and now volunteers with Volunteer Chore Services and Rural Prosser Volunteer Transportation giving free rides to clients in Prosser, Granger and Grandview.
Natalie Curfman, Program Coordinator at Volunteer Chore Services, says Garcia has given 194 hours of her time since last July, averaging 12 rides each month. The trips can be local, to doctor appointments or grocery stores, or more distant, to the Tri-Cities or Yakima.
Garcia enjoys the work, saying she likes being out in the community.
"I meet new people," she said. "I've lived here all my life, and I see familiar faces along with new faces every day."
In addition, Garcia volunteers with Catholic Family & Child Service's Senior Companion Program making home visits to those who are unable to get out much.
People who wish to volunteer or need assistance can contact Natalie Curfman at Volunteer Chore Services at 509-839-8260 or 800-793-4453.
"It's been nice," Garcia said of volunteering. "I enjoy it. It's been fun for me."