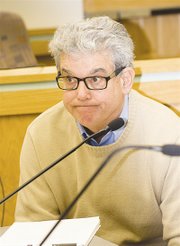 The Sunnyside City Council received a virtual bombshell yesterday (Monday) when City Manager Mark Gervasi submitted his resignation.
The council members were first made aware of the announcement that was to be made at last night's council meeting via email yesterday afternoon.
This continues what has been a stretch of misfortune with turnover for the city of Sunnyside, which has had five different individuals pass through the city manager's office since 2004. That's when Dave Fonfara, who happened to be at last night's meeting, resigned as city manager.
Bob Stockwell replaced Fonfara, and was terminated. Eric Swansen served 11 months as city manager before he was terminated. Interim city managers included former Public Works Director Jim Bridges and former City Attorney Mark Kunkler.
At last night's meeting, Gervasi said, "It's time for me to retire."
After a lengthy search process in 2010, he was hired. The contract was approved Aug. 9, 2010.
Since then, Gervasi's mission at city hall was to improve customer service by extending city hall hours from a four-day week to a five-day, giving citizens of Sunnyside access to services on Fridays.
He helped initiate the process of securing improved garbage services in the city, and he led the charge for a Boys and Girls Club in Sunnyside.
Gervasi, to some, is a hero for also saving the Safari sign last May when fire clean-up crews were going to dispose of the historic sign. That led to the now infamous statement, "That means something to people here."
In addition, the city manager brought forth a code of conduct for the city council and helped city hall move forward with the implementation of a new website.
"He's done a lot of good things for the city of Sunnyside," said Mayor Mike Farmer, who admits to being stunned by Gervasi's resignation.
He said, "It was totally unexpected."
Gervasi was hired 19 months ago. Since then, said Farmer, Gervasi has been involved in starting and completing projects that have made Sunnyside a better place.
"We're going to have to get together and decide what to do...to get an interim city manager or hire a new one," Farmer said, stating Gervasi provided 60 days notice.
As a result, it is the mayor's belief that the city council will need to appoint an interim city manager before taking any steps to hire a permanent one.
Gervasi's resignation will be effective April 6. The city of Sunnyside paid the longtime Oregon resident $98,000 annually.
Farmer said he is uncertain as to what steps the city council needs to initiate next, but he hopes all the council members are present for a special meeting tonight to discuss the matter in an executive session.
"It's not like buying a service or parts for the city," he said, admitting that being a newly named mayor the process is somewhat unfamiliar to him.
Farmer said, "Currently, we will have to take one step at a time...I wish Mark the best."