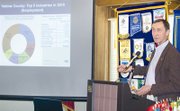 Economist Don Meseck cannot predict the future, but he can do a decent job predicting future trends by looking at the past.
Meseck is a regional labor economist assigned to the Labor Market and Economic Analysis Branch of the Washington State Employment Security Department. All of which, Meseck said, simply means that he's in economic intelligence.
In a presentation to the Sunnyside Noon Rotary Club this past Monday, Meseck gave a list of the most promising industries for South Central Washington based on recent economic indicators.
Using data from 2004 to 2010, Meseck found the industries with the strongest job growth. Those six industries are the ones that are most promising in the future.
Meseck's work covers Kittitas, Klickitat, Skamania and Yakima counties. He said that the bulk of the jobs he tracks, 80 percent, are in Yakima County.
As a result, four of the top six most promising industries are clustered around Yakima County. The other two are in Klickitat County.
In Yakima County, strong industries include agriculture and food processing, warehouse and distribution, health services and manufacturing.
In agriculture, Meseck said crop production is a strong sector, but agricultural support is even stronger. Agricultural support includes services like aerial spraying, vineyard cultivation, farm management, crop harvesting and animal breeding.
Food processing is technically in a different classification than agriculture, but in this area it is tied closely to agriculture. Meseck included the growth of several thousand jobs over a six-year period in food processing as a promising trend.
Health services increased by a similar amount, making a 19.1 percent gain in jobs over the time studied compared to a 6.4 percent average for all jobs.
Two areas of manufacturing jobs saw enough improvement to make the list. Plastics and rubber processing and fabricated metal products both beat the average job increase. Meseck noted that fabricated metal production is up across the nation, making it a promising industry.
Warehousing and distribution, which covers everything from motor vehicle towing, to freight transportation, to packing and crating also have beat the average, with strong increases across the board.
Klickitat County has shown growth in renewable energy and professional and business services, reflecting both the increase in wind power being used and serviced in the area and the increase in research and development companies.
Meseck said he feels a pragmatic optimism about the job growth in the area. He noted that agriculture makes up nearly a quarter of all jobs in this area, and agriculture is important to the state's economy. When agriculture has a good outlook, the area as a whole is better off.