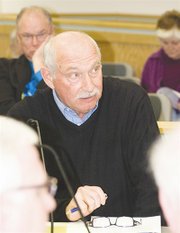 The Sunnyside City Council Monday heard from Jeff Barrom of SEDA (Sunnyside Economic Development Association) and Dave Fonfara, former Sunnyside city manager, regarding a proposal for marketing the West Sunnyside Business Park.
Barrom said the proposal submitted by Fonfara, now a consultant, is the best plan he has heard for using the approximately $17,000 left in the SEDA fund.
Because of that, he said it is believed the city might be interested in matching the funds for the purpose of exploring the marketing possibilities for the city's property.
Fonfara proposed a marketing plan that would cost a total of $33,430. It is a five-step plan.
He said SEDA and the city of Sunnyside would provide input while a master plan is created.
The plan would involve an analysis of target industries for the West Sunnyside Business Park, as well as an examination of what is the best use for the property.
Fonfara said he would work with other entities interested in economic development and would market the property to target industries.
He also included his services for the purpose of seeking grant funding and other revenue sources that might benefit the development of the property.
The agreement, if approved by the Sunnyside City Council, would be for a term of six months and could be terminated with 30 days notification.
The Sunnyside City Council, after further discussion, decided the item would be on its Monday, Feb. 27, meeting agenda for action.