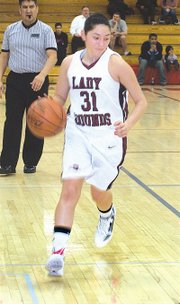 GRANDVIEW - The Mustangs took an early lead in last night's game in Grandview, but had to struggle to stay ahead of the Lady Greyhounds, who were within striking distance the entire game.
Prosser eventually prevailed 58-50, but the Lady 'Hounds put on a good show, particularly from the free throw line where the team shot 16-for-19.
The difference in the game was the offensive rebounds. The Mustangs recovered 22 loose balls from the boards and made those count, racking up 23 second chance points to Grandview's seven.
Payton Parrish led the Lady Greyhounds with 23 points. Marissa Caballero scored 13, including going 7-for-7 from the charity stripe.
Grandview was down by three points at the half, and kept the score almost even through the third quarter. But they never quite caught up with the Mustangs, who held the lead from the first quarter to the end of the game.
The Lady Greyhounds play their final regular season game in Ellensburg on Friday, Feb. 10. Grandview (7-10, 9-10) is tied with Ellensburg for sixth place in the league and must win its final game to go to the District tourney.