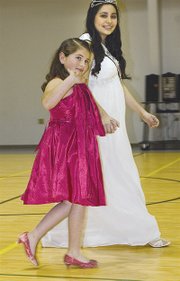 The Miss Sunnyside court hosted a pageant last night (Tuesday) that culminated weeks of hard work and dedication with a splash of fun from area youngsters and "princesses in training."
The project, "Princess Prep," was implemented by Miss Sunnyside Abigail Ramos who wanted to instill "youth empowerment, through music, art, writing and theater," she said.
For the past three weeks nearly 11 participants gathered with the Miss Sunnyside court to learn a dance number, write their own introductions, decorate crowns and learn to walk like a princess and to stand with "pretty feet."
"It's a certain way we stand when we're doing our walks," says Miss Sunnyside court first princess Geordan Skyles.
Young girls in the area were invited to participate for just a $5 waiver fee and a donation of two cans of non-perishable food. The canned food will be donated to Sunnyside's St. Joseph Food Bank.
Last night the 11 participants (first and second graders) demonstrated all they have learned and were each awarded a sash and crown for their participation.
But the court isn't finished with the project just yet.
Third and fourth grade students wanting to participate have until Friday, Feb. 24, to sign up for the sessions beginning on Monday, Feb. 27.
Fifth and sixth graders have until Friday, March 16, to sign up for the sessions that begin Monday, March 19. Each session is three weeks long, each Monday and Tuesday for an hour.
For more information, contact Teri Alvarez-Ziegler at Sunnyside High School.