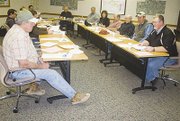 Despite a warming trend for much of the winter, the water outlook is good for irrigators this summer.
That's according to Ken Ott, SVID's assistant manager for operations and maintenance.
"We're on track for a full supply," Ott told the Sunnyside Division Board of Control during a board meeting yesterday, Tuesday. "Everything looks just fine."
Current water storage is 137 percent of average for this time of year, according to information Ott provided from the Bureau of Reclamation.
The warming trend this winter was followed last month by significant snowfall in the mountain passes and around the state.
As a result, reservoirs have made up a lot of ground. Bumping Reservoir, for example, is at 58 percent capacity, just off the 62 percent it was at this time last year.
Ott also unveiled the irrigation priming schedule yesterday. In less than six weeks priming will start at 5 a.m. on Tuesday, March 20, at the head gate and continue through Friday, March 30, in Prosser.
The goal is to have water to irrigators throughout the division by April.
While the snowpack and storage levels are on good ground now, Ott did caution there's still uncertainty in weather patterns between now and the start of the irrigating season.
"We'll have a lot better look at it a month from now," he said.