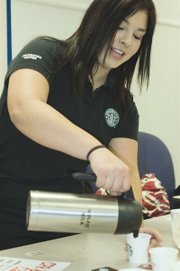 There are two different types of coffee beans that are widely grown for consumption.
According to Sunnyside Safeway Starbucks Manager Sarah Trevino, the two beans are Robusta beans, which are grown at lower elevations with a small flavor profile, and Arabica, which is grown in elevations up to 1,800 feet and has stronger flavors. The local store uses 100 percent Arabica beans, says Trevino.
Sunnyside Daybreak Rotarians got a lesson in coffee at this past Wednesday morning's meeting from a local "coffee master."
Trevino says Starbucks has more than 87,000 different drink combinations.
But the buck doesn't stop with a carefully crafted cup of coffee, says Trevino.
"At my kiosk, we sell a variety of things other than just brewed coffee and espresso drinks," she added.
Tazo tea, whole bean coffee, pastries, tumblers and mugs are just a few of the vast amounts of merchandise available locally.
Trevino says there are 14 stores within the local Safeway Starbucks district, and the Sunnyside location competes on a weekly basis for the number one spot in sales with a Yakima store. Which, she says, is a great feat since Sunnyside's population is much smaller than some surrounding areas.
"So thank you to those of you who visit our store," she said. "Your loyalty is greatly appreciated."
As the department manager, Trevino writes a weekly schedule, orders merchandise, calculates a monthly inventory and trains new employees.
Trevino says most Starbucks employees wear green aprons. But those with black aprons are the "black belts of Starbucks."
"The 'coffee master' (is) literally a master about the Starbucks company and (about) coffee in general," she said. "They know all the coffees by smell and taste, and all the drinks."
But Trevino says all local Starbucks employees are trained by specific Starbucks standards and are sure to offer good service and a tasty drink.